In june 2022, we visited Esxence, the annual high mass of niche perfumery. These are our impressions.
It was our first visit to Esxence, so we cannot compare with previous editions. The location had changed to the Mico Milano Convention Centre, and according to loyal visitors, this edition was a lot larger and therefore less cosy and pleasant than previous years. We can certainly confirm this for the restaurant: a sterile school refectory at -1. There was not much to do in the vicinity of the expo either, although we eventually found a cosy restaurant with the somewhat strange name "Big School Cafè". A pleasant terrace, friendly service and good food: it became our regular spot for lunch.
Esxence lasts 4 days and, to our surprise, is free to visit and open to non-professionals on the last two days. You do need to register in advance, and we quickly understood why. We registered as 'retailer', because that is what we are. Registrations are shared with all the exhibitors. Soon after our registration, we received dozens of e-mails every day from all sorts of brands inviting us to their stands, and encouraging us to make an appointment in advance. One mail was more personal than the other. We didn't want to fill our visit with obligations, so we politely declined.
The fair itself then: in total, some 300 brands were exhibiting. Even if you, like us, went the full 4 days, it was impossible to visit every brand. So we made a selection beforehand (that alone took me two days), and for the rest, visited the booths that appealed to us. 300 brands is a lot. But to make a comparison: only 1/3 of the brands we offer had a stand there. Those 300 brands are only a fraction of the number of niche perfume brands that exist. Many small or starting brands simply do not have the means to pay a few thousand euros, even for the smallest stand (I estimate about 2 by 2 metres). Therefore, there were also many owners of brands who did not have a stand but were strolling around, or whom you could meet outside the 'official' fair in a hotel.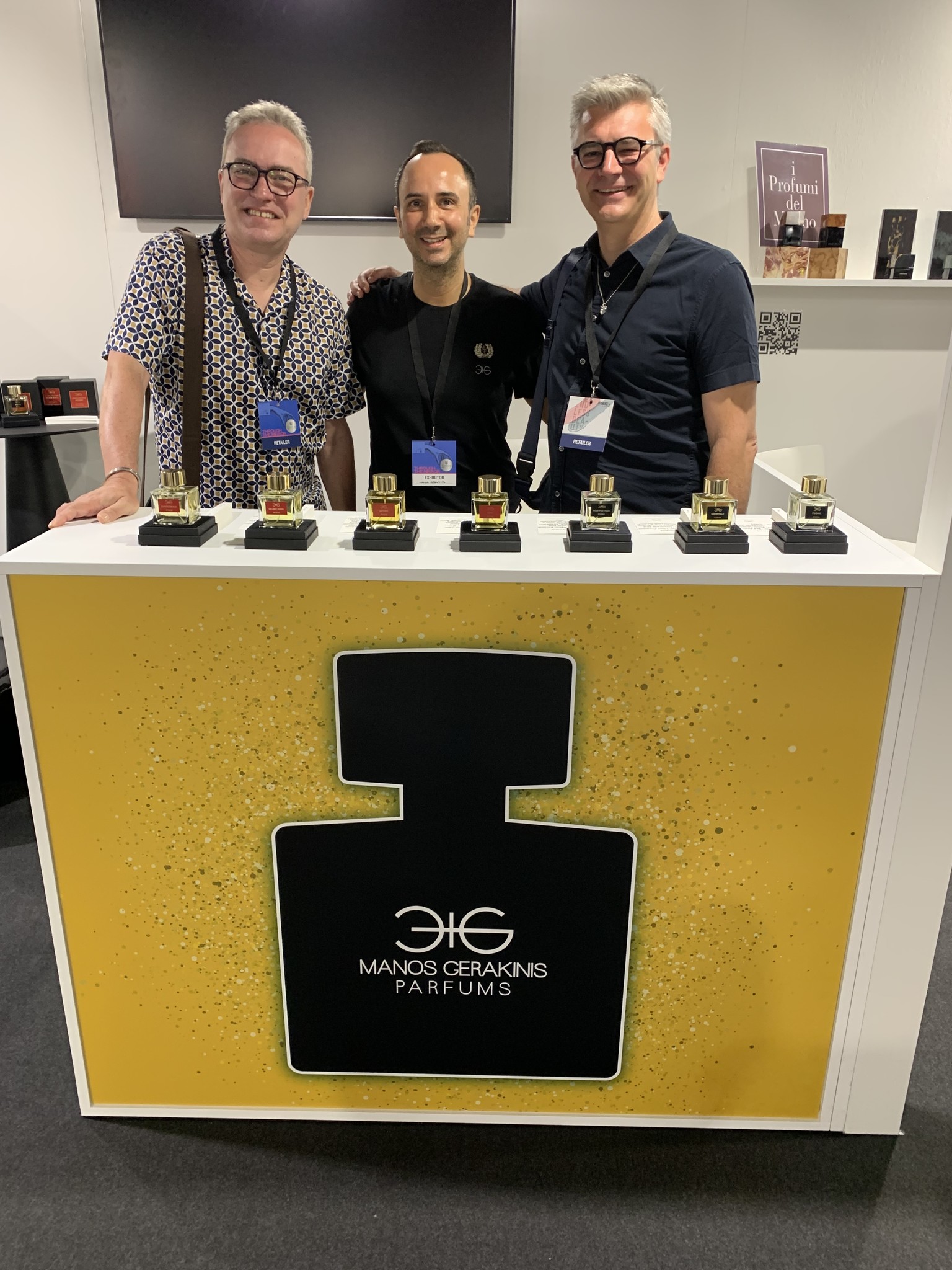 After three years of partnership, we finally met the charming Manos Gerakinis.
The route was conceived as a long meandering snake that you had to follow along all the stands, a bit like IKEA. Shortcuts were marked off with poles and guards who sent you back. That was annoying. We had made a plan for the four days: on the first day, we were going to visit all the brands that we already work with. For us, they are and remain the most important and the main reason for our visit. Coincidence or not, most of them were at the end of the track, where the smallest stands succeeded each other. On day two and three we wanted to focus on the brands we had selected in advance, and we kept day four as 'reserve'. Clearly, this did not fit in with the defined route, so we spent four days running from one place to another. And it seemed we were not the only ones. People do not just let themselves be led in fixed directions. In the last corridor, there was one stand where you could buy water or soft drinks. For such a fair, at a time when it was more than 30 degrees outside, this was downright inadequate. Especially when you realise that that was also the only place where exhibitors could go to, who often barely had time to even go to the toilet.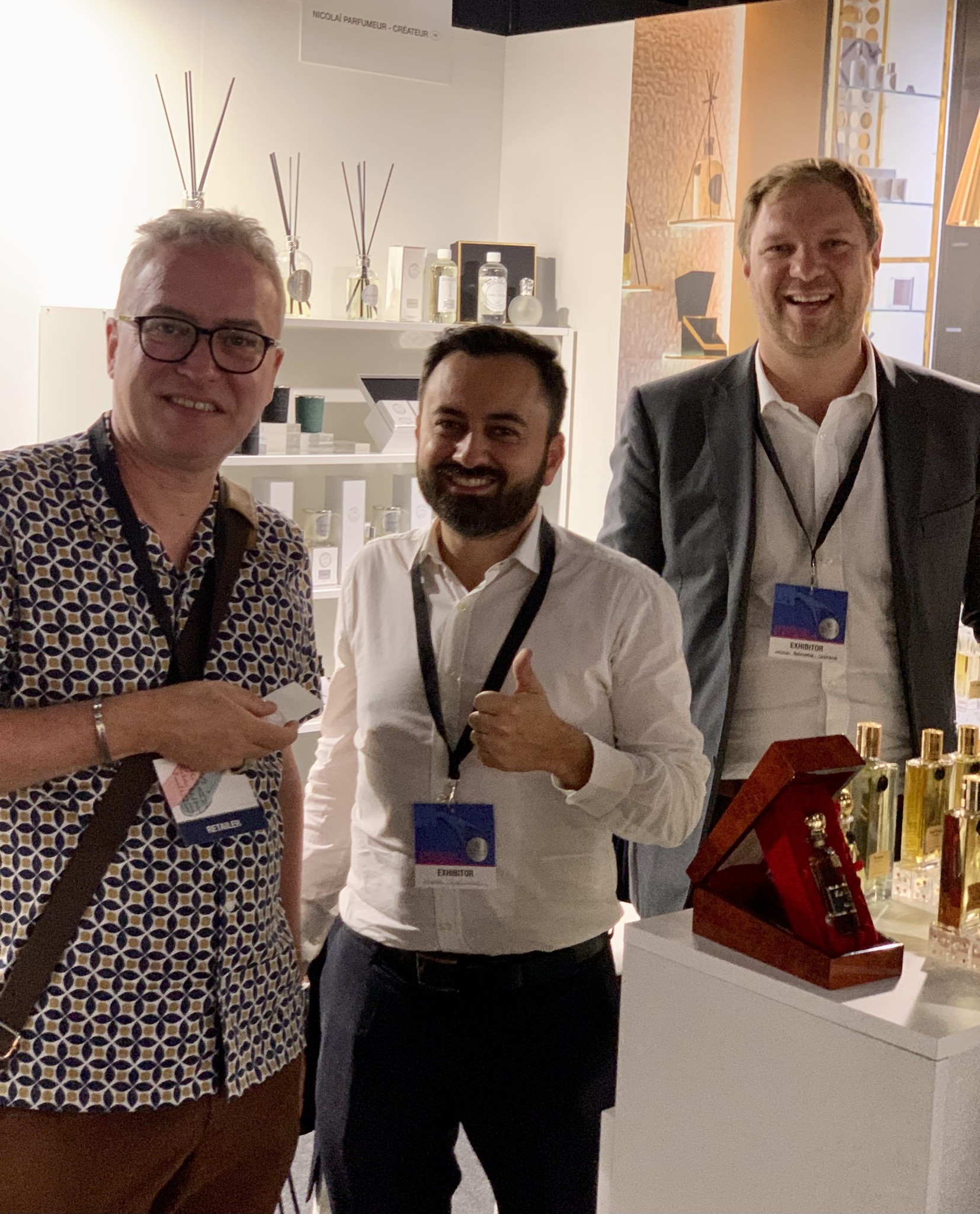 Happy reunion with the great team of Nicolaï Parfumeur Créateur, soon after their visit to our shop early June.

 You could feel from everything that it had been a long time. There was enthusiasm in the air, an exuberant atmosphere of relief and joy. People fell into each other's arms, there was laughter, many selfies were taken. For us too, it was great to meet so many of our brands. Sometimes a happy reunion, just as often a first 'live' meeting. Each of these experiences put us at ease. We find a good contact with our brands just as important as the products, and feeling that click and realising we have made the right choices is reassuring.
Entering the exhibition every day felt strange. As if you were entering a parallel world, like Alice in Wonderland. Hence the theme 'Through the mirror', we suspect. A private, secret universe with different rules. With celebrities who clearly enjoyed all the attention they received there, but who once outside probably became noble strangers again, standing out only because of their striking looks. Once back in the 'normal' world, nobody seemed to have any idea of what was going on inside. On every terrace and in every cafe or restaurant we visited, we made waiters smell perfumes, to prove to them and to ourselves that this parallel world really existed.
Apart from the brands we already work with, what else was there to find at the fair? A colourful mix of brands from all corners of the world, large and small, unknown starters and established names (in that world, anyway).  Many European brands of course, especially from Italy and France, but also brands from the Far East, the Middle East, Africa, North America and South America. You could clearly see the cultural differences. Japanese stands were pure, clean and simple. Arab stands were usually the largest, dark and mysterious, filled with striking, luxurious bottles.
The first stands in the 'snake' were by far the largest. The organisers clearly wanted us to see them. We regularly wondered how 'niche' those brands actually were. Nishane threw a big party in the evening on day 2. We were not invited. We are no match for each other, and they clearly understood that.
Some stands tried to get us to visit them in every possible way. That was enough for us not to do so. Others looked at us somewhat condescendingly. Another signal to move on. At the stands where we did go to get acquainted, we were hardly ever asked who we were, where we came from, what shop we had. They just jumped at it to introduce their brand and products. That, too, we found strange. It gave us the feeling that the competition was so fierce that they wanted to make a deal at any cost, with anyone who would take the bait. The funniest moment was often when we finally introduced ourselves. Apparently, we have built up a certain reputation in those few years. Stand holders who were at first neutral or hesitant suddenly became extremely friendly. It made us laugh.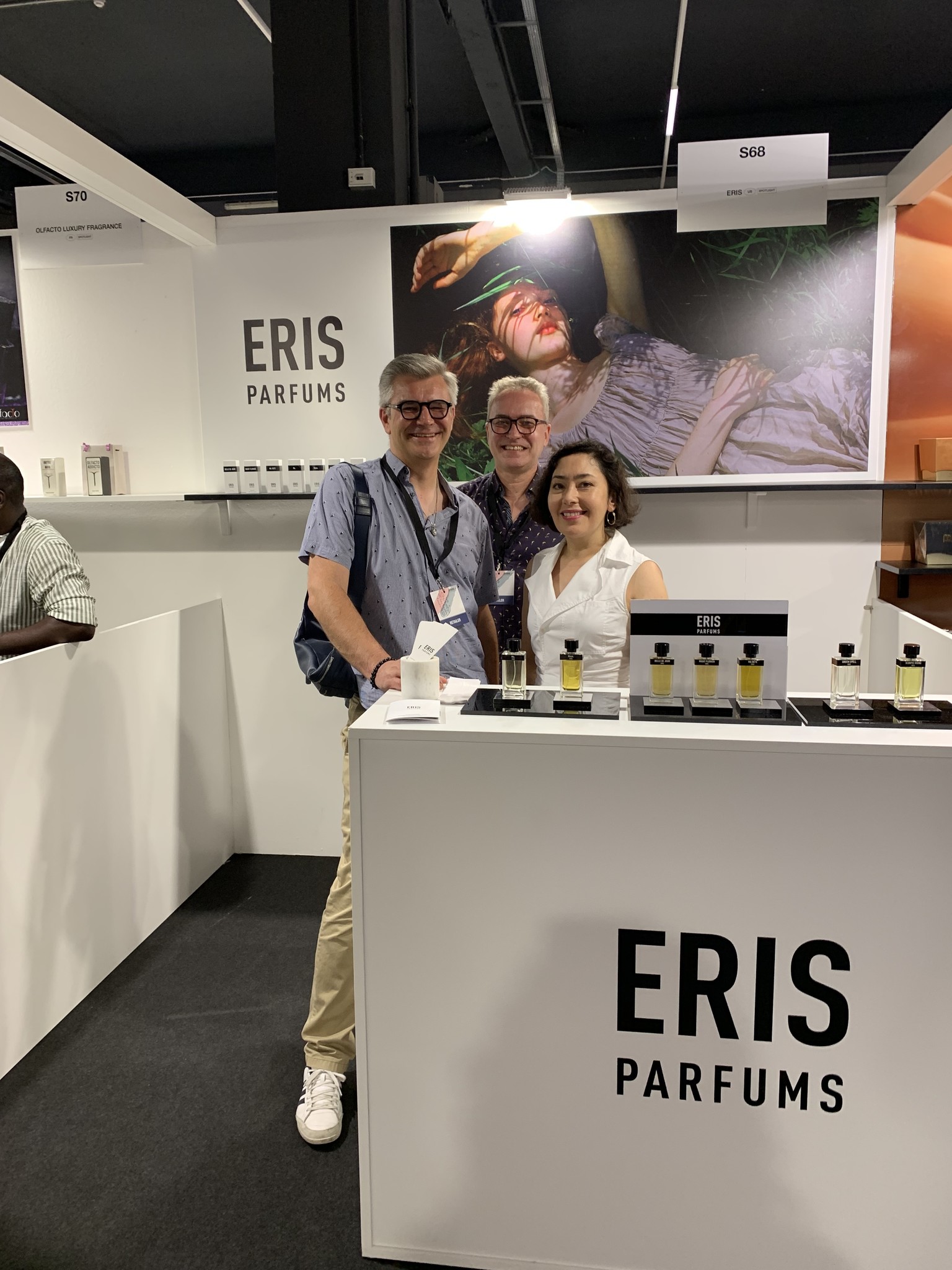 We have a deal! Eris Perfumes, by the absolutely amazing Barbara Herman, is now available in Belgium.
The main trends? Oud, a substance derived from a fungus-infected agar tree (which is why a synthetic alternative is often used), is still popular. But there were also many brands proposing more subtle, delicate perfumes. Quite a few fruity fragrances too, with fig, redcurrant or yellow fruit. More attention (finally) to sustainability and ecology, with several brands focusing on natural products and sustainable, simple packaging. Thematic brands who, for example, launched 5 perfumes around the same base note. It was surprising to discover how one ingredient can have so many facets. It showed that just relying on the notes is not a good idea. You just have to try it. The brands we liked the most showed a clear, original and coherent concept. Sometimes this felt very authentic and lived through in our conversations, sometimes it was difficult to find out if they had not just hired a good marketeer. There is still a lot of mystery surrounding perfume. But above all a lot of variation, and that is a good thing. 
Have we made any new discoveries? We certainly did. We went home with a suitcase full of samples. It will take us weeks to test them all. Which brands they are, we prefer not to say. Unfortunately, we don't have the space nor budget to start a partnership with every one of them. A new brand requires an investment of easily a few thousand euros. We have to sell quite a few perfumes for that. We don't want to make you any empty promises. But although we had promised not to make any commitments at the fair, we returned with a new brand: Eris Parfums from New York, founded by Barbara Herman. Hiram Green tipped us off, and it was the only new brand we visited on day one. It clicked immediately, and we went back every day. Love at first sniff.
It was an amazing and overwhelming experience. An event we were part of, but where we also felt like outsiders at times. We take our job (and therefore the fair) very seriously but we can also put it into perspective. And we would like to keep it that way.