Finding a perfume that suits you is not easy. To see the wood for the trees perfumes are often divided into different fragrance families. This article introduces you to the world of perfumes.
About notes and accords
Perfumes are usually described by notes. These are the different fragrances you can perceive in the perfume. These fragrances can originate from certain raw materials (such as cedar oil, or jasmine oil) or arise from certain accords, combinations of different raw materials or odour molecules.

The mention of a certain note in a perfume does not necessarily mean that that product is actually present in the perfume. You can compare it with wine. If a wine is said to smell like cocoa, red berries, citrus or peach, it obviously does not mean that those elements are actually present in the wine. It is the different molecules in the wine that evoke these smells.

The chance that you will smell all the different notes mentioned in a perfume separately is quite small. Much depends on how developed your olfactory organ is, and how much you train your nose to recognize certain scents. A certain scent also needs to be present in sufficient quantity to recognize it. Often there are only a few notes that you will smell more clearly, and that determine the character of a perfume.
Because scent molecules do not have the same weight, they are not all released at the same time. The lightest molecules dissipate the fastest. These are the first notes you smell, and they are called the top notes. After about 20 minutes, the slightly heavier molecules are released, and they form the core of the perfume. They're called the heart notes. The heaviest molecules will only be detected after an hour. Those are the base notes.
That's not all that important. What matters is whether you like a scent or not. But it can be useful to know what kind of notes you like best to choose a new perfume.
The fragrance wheel
There are a huge number of different notes, and new ones are added all the time. Choosing a scent based on the mentioned notes can therefore be quite complex. To make it a bit easier and more clear, perfume expert Michael Edwards created the fragrance wheel, grouping perfumes into different scent families. He distinguishes 4 major families: floral, oriental, woody and fresh. These are then further subdivided into subcategories. In total, the fragrance wheel currently consists of 14 categories. That's quite a lot too, and because a perfume is a composition with different notes, it can be quite difficult (especially for modern perfumes) to classify it in one of those categories. Sometimes experts disagree where a perfume belongs. In short, it's a useful tool, but it's  not beatific.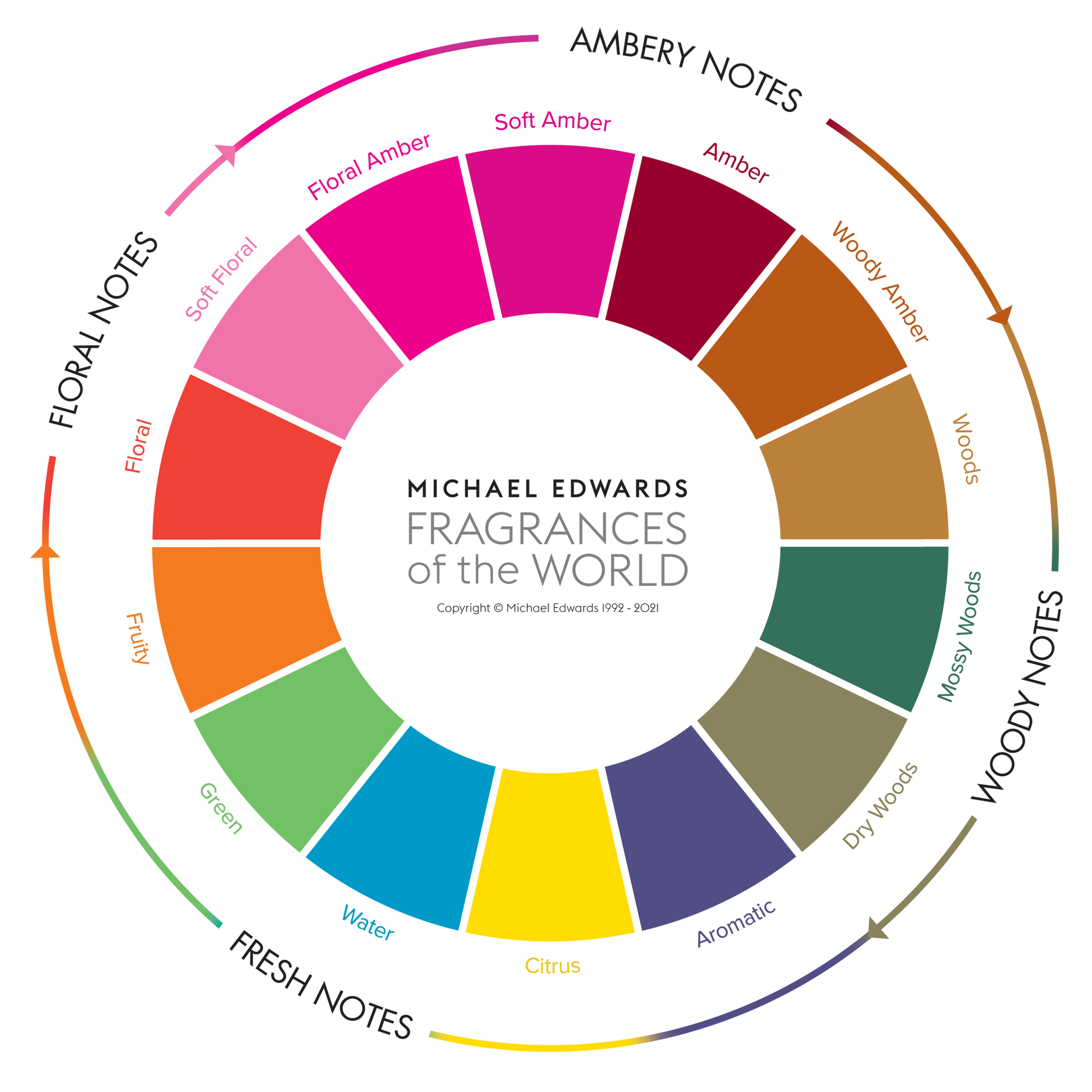 Below is a brief description of the different families Michael Edwards distinguishes:

Floral
Floral: Perfumes that smell of freshly picked flowers, such as rose, jasmine or lily.
Soft floral: Floral fragrances that are soft and powdery. Besides flowers they often contain aldehydes, iris (not the flower, but the root), musk or vanilla.
Floral amber: Perfumes that contain sweet spicy elements (such as amber and incense), combined with intoxicating flowers such as orange blossom, gardenia or tuberose.

Amber
Soft amber: soft, warm perfumes with warming herbs, incense or even carnation.
Amber: heavier fragrances built around sweet, warm notes such as vanilla, cinnamon, musk, tokabean or cardamon. Perfumes with sharper spices such as pepper, nutmeg, cloves or cumin can also be included in this category.
Woody amber: Spicy fragrances combined with more earthy, woody notes such as patchouli and sandalwood.

Woody
Woody: Perfumes containing many aromatic notes, such as cedar, sandalwood or vetiver.
Mossy wood: These fragrances have a 'moister' character. They are more earthy, and sweeter than other woody fragrances. They often contain oak moss and amber. Another word for this family is Chypre.
Dry wood/leather: dry, smoky scents, which often evoke the smell of leather or tobacco.

Fresh
Aromatic (Fougère): Fougère is a somewhat separate category. Fougère is the French word for fern, but these perfumes don't smell like fern. They are fresh perfumes that smell like moss or a moist forest. A classic Fougère perfume contains lavender, wood, oak moss and coumarine. The name comes from the perfume Fougère Royale, which was released in 1882 by the house Houbigant and led to a whole new series of perfumes in this style. In addition, perfumes with fresh, green herbs such as rosemary or basil can also be classified as 'aromatic'.
Citrusy: Fresh perfumes with lemon, bergamot, mandarin or grapefruit.
Aquatic/Water: The scent of the sea or rain. They often contain notes of salt, algae or seaweed.
Green: Perfumes reminiscent of freshly cut grass, green leaves that you rub between your fingers, fresh green tealeaves, cannabis, etc...
Fruity: On the edge between floral and fresh. These are perfumes that are mostly sweet, almost edible, with the scent of fruit such as pineapple, peach, apple or red berries, but also nuts (such as almond), rhubarb or cucumber.
Other classifications
Michael Edwards' fragrance wheel is probably the most common classification, but certainly not the only one. On several websites you can find other classifications.
For instance, L'Osmothèque, a leading international research institution based in Versailles, that has the world's largest scent archive, classifies perfumes into 7 categories: hespéridée (citrusy), floral, fougère, chypre, woody, amber (instead of the disputed word 'oriental') and leather. 
No classification is all encompassing. They are regularly reviewed and updated. For instance, in 1992, when Thierry Mugler launched the perfume Angel, a new category emerged that is called 'Gourmand'. These are sultry perfumes with scents such as caramel, chocolate, cotton candy, coconut and biscuits.
You've might also have heard people talking about 'Animalic' perfumes. These fragrances do not necessarily contain animal elements (fortunately most of them have been banned and replaced by synthetic alternatives) but they do smell animal, carnal, or even sweaty. They are sexy and seductive, with a 'dirty' side.
Does it stop there?
The world of perfumery doesn't stand still. Perfumers are always searching for new fragrances and trying to explore and push back frontiers. In this way, new fragrances are created that do not directly fit in the fragrance wheel or any other classification. What about perfumes with the smell of concrete, metal, asphalt, ink, ice or paper for instance?
Just like you can't always put a film, book or other work of art in a certain box (how about a western with aliens, a comic thriller, or a painting with concrete?) it's the same with perfume. That may not make it any easier, but it does make it interesting.
How do we approach this? 
In our store the perfumes are not organised by brand, but by fragrance family. We've chosen a classification very close to the Fragrance Wheel, of which we hope it's pretty straightforward and clear, even if you're less familiar with the jargon of the perfumery world.

Of course you can discuss about it, and we'd love to do that, because some fragrances can be placed in different categories. In our webshop you will therefore find some perfumes in several categories.
If it were all that simple and unambiguous, it would be boring, wouldn't it?